(From Parajunkee's View)
This week the featured blogger is

We Fancy Books

.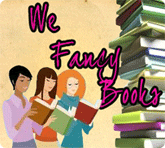 This week's question:



Name 3 authors that you would love to sit down and spend an hour or a meal with just talking about either their books or get advice on writing from?



- Suzanne Collins
- Lauren DeStefano
- Edgar Allen Poe or Ralph Waldo Emerson (this one is a tie)

(From Alison Can Read)
The featured blogger is A Novella's Tale.